Brick-and-Mortar Retailers Are Leveraging eCommerce to Their Advantage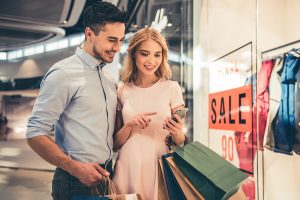 In the not-so-distant past many believed brick-and-mortar stores were on their way out and the rise of eCommerce would enable online-only stores to dominate the retail industry. There is no denying the explosive growth, popularity, or benefits of online shopping: Consumers can shop from nearly anywhere, quickly search for products while comparing prices and reviews, and use simple, secure checkout features. With countless options and information online, it was looking as though brick-and-mortar stores couldn't compete. However, savvy retailers are finding ways to level the playing field against their cyber competition. And one strategy that offers leverage by using a multichannel user experience is omnichannel retailing.
The omnichannel approach
Omnichannel retailing uses both brick-and-mortar stores and online tools to sell products. This approach combines all available retail channel assets and capabilities into a contiguous customer experience. It allows consumers to choose which channels they prefer, whether it's shopping online, in stores, or a hybrid of both. And to not only stay afloat but also remain competitive, retailers "need to fully embrace a one brand, many channels strategy." This has the added benefit of providing different points at which retailers can interact, offer incentives, improve user experiences, and customize tools according to ever-changing needs.
The key is to employ a data-driven strategy. Many customers do not shop through a single medium, and omnichannel retailing gives traditional retailers an edge that most online-only stores lack or cannot compete with — a personalized in-store shopping experience for every shopper. Through tactfully collecting and analyzing data, omnichannel retailers can employ highly strategic retailing efforts. Which types of products do customers tend to browse online but buy in stores? Which offers result in the highest conversion rates and through which medium? Those who are 10 steps ahead know what their customers want to buy and where. They understand consumer behaviors and spending patterns. And most importantly, they act on this knowledge.
As growth in online-only sales begins to taper off, brick-and-mortar business owners also have opportunities to capitalize through mobile influencers on social media platforms. Consumers help drive others' decisions through building brand awareness, offering peer recommendations and reviews, sharing pictures or additional information, among other factors. Through strategic data tracking, retailers can also stay up to date on trends which, in turn, can allow companies to better anticipate and plan for sales efforts in the future. Strategic tactics, though, require constant attention.
Implementation and support
So how can retailers implement this strategy? The key is putting unified systems in place that share the same data while also providing unified customer experiences across all channels. This requires having the right tools and technology in place. Which platforms should they use? What applications support cloud-based point-of-sale systems, manage inventory, track customer preferences, and deliver company messages and offerings? By finding and utilizing the right services provider, retailers can have a better understanding of which platforms to use and what types of support they can — and should — expect.
When partnered with an experienced service provider, company leaders have access to analysts who can help you architect and implement a data-driven omnichannel strategy, ongoing maintenance, and management support. With the right provider, brick-and-mortar retailers can not only be sure they have the right tools in place but can also be assured they are functioning optimally and being properly managed. Brick-and-mortar retail isn't dead — it's being disrupted, and those who incorporate a multichannel user experience with a data-driven customized experience for their customers will likely gain an edge.
Value Global offers services for application design, implementation, and data analytics, with channel marketing support to help put you on the fast-track towards improved customer engagement and revenue realization. To learn more about omnichannel support and other services to support your business needs, contact a Value Global expert or visit us online.
Frequent Tags
Frequent Categories
Frequent Tags
Frequent Tags